Welcome to Secondary at St. Constantine's School.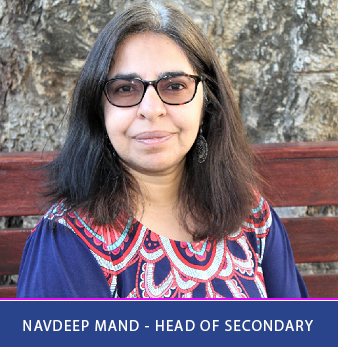 St. Constantine's International School has a fantastic heritage of supporting both the academic and personal excellence of every child. We have a strong dynamic vision for our students, staff and community and I am excited and privileged to be joining the St. Constantine staff as I am passionate about the power of education to transform young people's lives.
At St. Constantine we believe it is our role to nurture independent, ambitious and responsible students who are prepared for the challenges of life, have skills to adapt to changes in the future and are confident to strive for their dreams.
To achieve this, excellent teaching and learning are essential. Innovative, strategically designed and well implemented curricula lie at the heart of our students' success. Our Secondary students are offered a range of learning experiences and subjects across Key Stages 3, 4 and 5. We ensure students are challenged to make good progress at every stage so they are able to transition well and meet the demands of the international IGCSE and A-levels. Our curriculum is underpinned by strong academic rigour so that students can compete and be successful on the world stage.
Our students' learning experiences, through the Round Square IDEALS (Internationalism, Democracy, Environmentalism, Adventure, Leadership and Service), ensure the application of their knowledge and skills in different contexts, gives them ownership and encourages them to flourish. In addition, our strong co-curricular programme enables students to have opportunities in sports, arts, enterprise and STEM (Science, Technology, Engineering and Maths) so they discover their passions, develop their talents and pursue their goals.
Our learners' success is possible through the expertise, dedication and care of colleagues. We continue to invest in and support staff professional development so they can master the challenges of teaching and learning, technology and pastoral care in our ever-changing world.
The African proverb "It takes a village to raise a child" is truer now than ever before. Our "village" – is global, diverse and dynamic so it is important that we work closely with parents and continue to build local, national and international partnerships for every young person's success.
We welcome you to find out more, visit or join our community at St. Constantine's International School. Please feel free to contact me at headofsecondary@scis.sc.tz.
Best Wishes
Navdeep Mand
Head of Secondary