St. Constantine is within easy reach of northern Tanzania's great wildlife parks and less than two hours by air to Zanzibar Island. We are very lucky in that we are surrounded by some of the most famous landscapes and national parks in Africa, making it easy for us to plan Outdoor Education activities.
The School is around four hours' drive from Serengeti National Park, which hosts the largest terrestrial mammal migration in the world. We are less than three hours' away from Ngorongoro Crater, the world's largest inactive, intact and unfilled volcanic caldera, which formed around two or three million years ago. It is now inhabited by hippopotamuses, elephants, lions and other mammals, including the critically endangered black rhinoceros.
The seat of humanity is also within our reach at Olduvai Gorge where Dr. Louis Leakey discovered remains that pointed to the early human evolution of Homo habilis; along with other famous landmarks such as Lake Manyara, Tarangire National Park and Lake Eyasi.
We are also less than two hours' away from Mount Kilimanjaro, the highest mountain in Africa and the highest free-standing mountain in the world! Many of our students summit this UNESCO World Heritage monolith as part of their Round Square adventure experience. See Round Square

Main Campus – Burka
The Main Campus is 35 acres, filled with boulevards of over 800 jacaranda and flame trees, and is populated by bands of vervet monkeys, bushbabies, three and two horned chameleons and more than 100 species of birds, in addition to the 580 day students and 75 boarders of the human species.
We are surrounded by over 1,000 acres of the famed Burka coffee plantation and at the foot of Africa's fifth highest peak, Mount Meru, of which we have majestic views from virtually anywhere on campus.
The school architecture is a simple, but elegant Greek-style, which encompasses 56 instructional classrooms.
We also have some of the finest sports facilities in Tanzania.
The Main Campus caters for children of all school ages starting in Nursery (age 3 – 4) right through to Year 13 (age 18).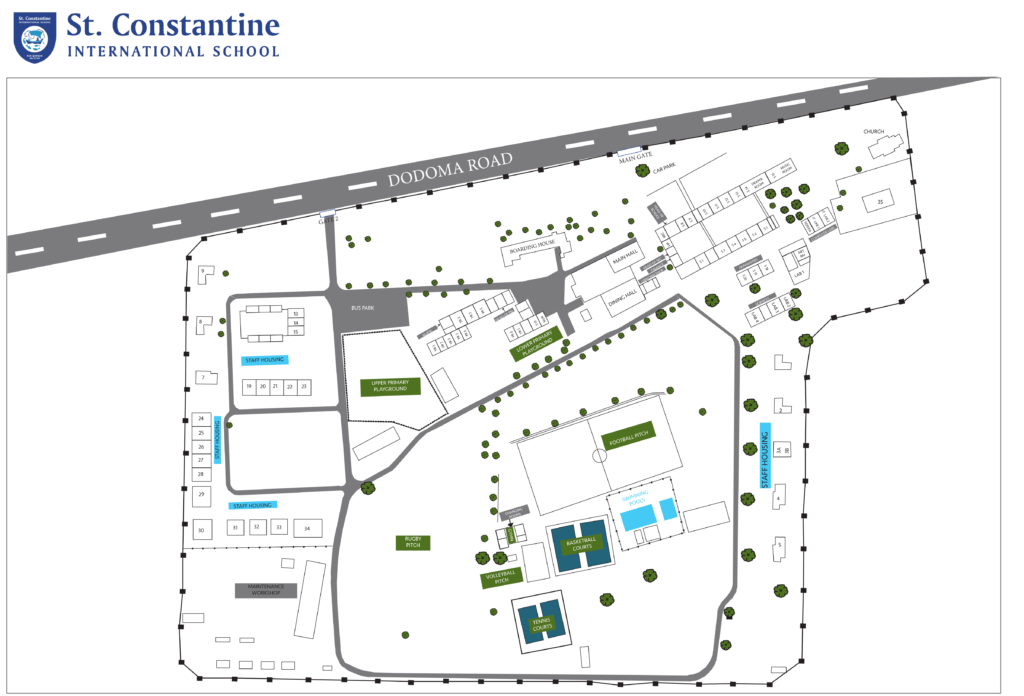 Town Campus – Serengeti Road
In September 2011, St Constantine's International School opened a brand new, purpose-built, Lower Primary School in the centre of Arusha, between Barclays Bank and Spanish Tiles, on Serengeti Road. The campus currently has four classes ranging from Nursery (age 3–4) to Year 2 (6–7).
Families living close to town are now able to take advantage of the amazing education the school offers, without having their little ones travel across town. By the time the children reach Year 3 they are more mature and equipped to handle the journey.
Teachers across the two campuses plan collaboratively to provide the students with hands-on and appropriate learning activities. The students are also given many opportunities to interact with their peers at the main campus.

Facilities
We have two fully equipped computer laboratories furnished with the required equipment for teaching and learning, and WIFI across both campuses. Tablets are available for the use during class time.
We have five Science laboratories, a multipurpose Gym, an Assembly Hall, a Dining Room with seating capacity for 600 students, a Boarders' Dining Room for 100 students, a Boarders' Common Room with plasma screen TV and pool table, a 25m swimming pool and a 10m training pool.
We have two School Libraries – one for Primary and one for Secondary – which are busy and popular learning environments for students. They are staffed full-time by professional librarians as a research space for our students to study, meet and share ideas, as appropriate to their class levels. Our librarians help students find information to support their research projects and class assignments, an important focus being quality resources beyond Google and Wikipedia.
Through the St Constantine's International School Library students are also familiarised with library systems – a vital skill for ongoing studies. Our librarians support our students to build strong research habits and develop the skills they need to progress in their education and future careers.
Both our print-based and digital resources support teaching and learning in all subject areas, and there is a wide range of fiction and other recreational reading for students' personal relaxation.

Libraries
We have two School Libraries – one for Primary and one for Secondary – which are busy and popular learning environments for students. They are staffed by full-time by professional librarians as both a place to relax and enjoy the written word, or as a research space for our students to study, meet and share ideas, as appropriate to their class levels.
The Secondary Library is located upstairs above the cafeteria on Main Campus, while the Primary Library is on the Primary side of the Main Campus, upstairs, next to the Primary Hall.
Our librarians assist students in their search for materials to support their research projects and class assignments, or to choose the ideal book for their Primary USSR (uninterrupted, sustained, silent reading) and Secondary DEAR (drop everything and read) alerts. We also encourage students to sustain this at home on a daily basis for about half an hour and to discuss their books with one another.
Librarians

"Children's library needs are not always clear compared to the adults' ones, due to lack of clear goals and vision according to their age. Little ones need guidance to suitable reading material and assistance to develop a reading habit as they grow. By becoming good readers, they succeed in their studies."
William Msilu, Primary librarian.

"We are deeply defined by what we do/don't read – including emails. While students may read during an internet search it often enforces a bias, rather than pure information. It is therefore our job to show them where they can find better answers and form opinions of their own. We can understand the word only if we read, for this is the only way we can travel by our own imagination from the known to the unknown, rather than being led blindly,"
Lightness Isojick, Secondary librarian.