Welcome to Primary at SCIS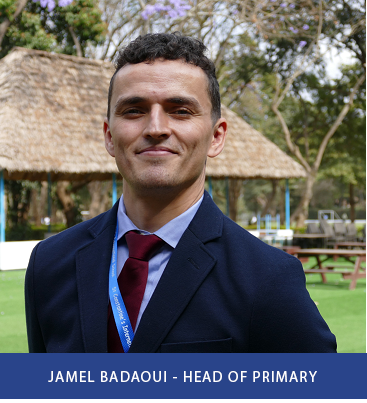 A very warm welcome to St. Constantine's International School, Arusha. Our thriving school community is abundant with smiling children who demonstrate resilience and creativity, and develop their confidence and potential throughout their SCIS journey.

Our passionate and dedicated group of experienced teachers and practitioners form the foundation for our school, sharing a commitment to outstanding teaching, personalised learning, and promoting unique global opportunities. Preparing our students to adapt to multicultural environments and to communicate effectively and confidently is at the heart of our teaching and learning philosophy.
We take an internationally-minded approach to education, blending the best of traditional and modern evidence-based teaching and assessment pedagogy, and supporting this with a broad range of opportunities for students to experience and excel across language, art, music, drama, and sport. This is best represented by our vibrant school life, superb co-curricular activities, and NTSAA sporting successes across Northern Tanzania.

As a school, we continually reinforce and celebrate the Round Square IDEALS of internationalism, democracy, environmentalism, adventure, leadership and service, integrating these into our school culture and recognising these throughout the academic year. When combined with the supportive spirit evident across SCIS, and maintained by the inquiry-based Cambridge Primary Curriculum, our children succeed, thrive and develop a lifelong love of learning.

Working closely and collaboratively with families, our teaching staff work together to produce young people who are ready to take their next step out into the world, to be kind and considerate members of their communities, and to be ready to contribute and to make a difference – wherever their journey may lead them.
Karibuni sana!
Jamel Badaoui
Head of Primary
Academic Transfer and Primary Transition
The key transition points involving the Primary School are summarised below:
| | |
| --- | --- |
| Transition Point | Key Points and Action |
| Reception to Year 1 | This is the transition from the EYFS to Cambridge. Careful thought has gone into bridging this gap and we have a smooth curricular transition. |
| Year 2 to Year 3 | This is the transition from Lower to Upper Primary. It is also when Town Campus students move over to Main Campus. Town Campus students get the opportunity to spend a morning with their new teacher on Transition Day, plus they are all routinely exposed one day per week to the Main Campus. Again, we have planned for a smooth curricular transition. |
| Year 4 to Year 5 | This is the transition from a more home-room based timetable to a more specialist-teacher timetable. Transition day supports this and the curricular transition is smooth. Year 5 class teachers discuss associated issues in the first few PSHE sessions of the new term. |
| Year 6 to Year 7 | This is the big transition from Primary to Secondary. Huge effort has been made to ensure that this transition works for all stakeholders, including the following: Cross-curricular project between Year 6 and KS3 in the third term. Many Year 6 lessons happen in the Secondary school. KS3 teachers observe Y6 students in their Y6 classes. Mini-assemblies with Head of Secondary / AH KS3 in T3. |
Primary School Curriculum
Our Primary students follow our own tailor-made curriculum, with varying emphasis on content, skills and assessment. This curriculum is partially based on the Cambridge International Education Curriculum in the core subjects of English, Mathematics and Science. For the Foundation subjects of Social Studies, French, Kiswahili, Art, Music, Physical Education and Swimming, it is loosely based on the British National Curriculum. However, all of our curricula are adapted to take account of our location in Tanzania, as well as our position in the global society.
Children are constantly undergoing formative assessment through day-to-day activities and lessons with their teachers. Every child also completes an annual PIPS assessment that gives the teachers in-depth information on ability to learn as well as value-added scores in relation to this and previous years' performance. The formal CIE Checkpoint examinations at the end of Year 6 are optional and parents will decide if they wish their child to participate in these exams.
The focus for all of our students is based around children learning through experience. Students develop critical-thinking skills through investigation. Once students relate their learning to their own personal discoveries, they gain greater insight and retain the concepts for the long-term.
Our students should be healthy, happy and inquisitive and these are aspects that we promote at all times.
Students up to Year 4 have their own class and classroom teacher, but will also learn with a small number of specialist teachers for French (from Year 3), Kiswahili (from Year 1), Music, Art, Physical Education and Swimming. Our Year 5 and 6 students receive specialist teaching in all subjects; we feel this is an important transition as they move towards the Secondary School. Students develop their maturity throughout their time in the Primary School and become more independent as they progress towards Year 6.
In addition to our academic programme, we have a strong co-curricular timetable, including sports, arts, drama, PSHE and Round Square activities. We feel our role is to give every child the opportunity to discover their individual talents by exposing them to as many options as possible. Please see these particular pages for more information on each area.
Lower Primary
In Lower Primary, we promote a warm and friendly environment for our diverse school community of students and teachers from a variety of backgrounds. The Lower Primary building comprises of eight stimulating classrooms each with its own projector and use of Wi-Fi; a fully resourced art room; and a music room. We also have a large playground with a sand area and outdoor playground equipment.
Lower Primary on Main Campus consists of:
Early Years foundation stage (One Nursery class and two Reception classes) and
Key Stage 1 (two Year 1 classes and two Year 2 classes).
Additionally, there are four classes on our Town Campus, one for each of the year groups from Nursery to Year 2.
The children are taught all subjects with some taught by specialist teachers*. The school timetable includes the following subjects:
English
Mathematics
Inquiry (Science, History and Geography)
Personal, Social and Health Education (PSHE)
Art*
Music*
Physical Education and Swimming*
Kiswahili*
If required, English as Additional Language (EAL)*
Children are assessed both formatively and summatively to identify next steps throughout the year. We track progress of each individual student and provide full school reports biannually outlining the students' achievements and effort.
In Lower Primary, we share six school values: co-operation, courage, kindness, integrity, responsibility and teamwork. These values are integrated into everyday life and reinforced through PSHE lessons and weekly assemblies.
We aim to develop the whole child and inspire them to be respectable and responsible citizens of the local community and the World.
Upper Primary
The Upper Primary provides a culturally rich and intellectually stimulating environment for our diverse body of students. Our students learn through exploration, discussion and presentation, through research and investigation. In the Upper Primary, we currently have three classes for every year group. Each class consists of approximately 20 students: each child's needs are catered for. Curricular subjects studied are English, Maths, Social Studies, Science, French, Kiswahili (with separate classes for speakers and non-speakers), Art, Music, Physical Education and PSHE (Personal, Social and Health Education).
In Years 3 and 4 students enjoy the pastoral care of a home class teacher who teaches the English, Maths, Social Studies and PSHE, whilst specialist teachers cover all other subjects. In Years 5 and 6 the students benefit from the expertise of specialist teachers in all subjects. This set-up also works towards preparing our senior students for life in Secondary School. Three times a week, the students take part in clubs where they have the opportunity to choose from a wide variety of arts and crafts, musical activities including private musical instrument lessons, and sports, both competitive and non-competitive.
The students very much have a voice in the school and are able to share their opinions and shape the daily life of the school through the representative School Council. Our Year 6 Prefects learn the importance of responsibility taking on several duties throughout the school day. In the Upper Primary all students are encouraged and supported to become responsible, independent and motivated citizens.
At each year level our students explore different aspects of leadership and learn to apply those lessons in everyday situations building on new leadership characteristics that will set students up for life.